THE CURTAIN'S UP
---
By Paul Dye

Click Here - For pictures of this trip
---

For most of us there are places we seemingly always wanted to visit, and others not so high on our list. For me, China was one of those that never made it to the top. It seems that was a mistake on my part. A wildlife conference in Beijing, followed by a field trip to one of its wilderness areas, to Tibet, and to several of its historical sites, followed by a holiday in the Hong Kong autonomous region sure convinced me of the error of my ways.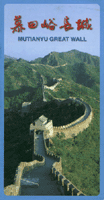 Beijing is a bustling city, brimming with fascinating ancient history and unlimited shopping opportunities. In most of the more popular shopping locations, like the Pearl Market, bickering your way down to an acceptably cheap price is expected. Only in a few of the most exclusive department type stores are the prices fixed and firm. Beware though, as you need to make sure the boxed product you're given when you select something off the shelf is complete, and of the same quality as the one you selected. Don't miss out on visiting a few of the ancient and historical cultural sites such as Tiananmen Square, the Summer Palace, the tombs and the Forbidden City, also known as the Imperial Palace. Its construction began in 1406 during the Ming Dynasty, and it was greatly expanded during the Qing Dynasty. An hour or so drive out side Beijing we climbed up to the Great Wall, one of the few man-made structures on earth clearly visible from outer space. We ate our boxed lunch with friends in one of its many towers. Our return back down to the bus parking lot was via the slide, a toboggan-like ride that winds down the mountainside using gravity for propulsion.

Our symposium was hosted by the Zoological Institute, and was held close to the downtown Beijing area. Due to the heavy volume of city traffic we found that getting around in the city by the underground was far faster than hiring a taxi, and really inexpensive. The underground subway routes are color coded and marked in both Chinese and English, making it easy to find your way. Internet cafes and western food serving restaurants are available, but not always easy to find. Drinking and brushing your teeth with only purified bottled water is highly recommended. Another good rule to follow in all of China is to eat only what can be peeled, unless it is thoroughly cooked.

After completing the symposium, a portion of our group flew to Lanzhou, in Gansu Province for a few days of intensive wildlife watching in a remote area of the Lianhuashan Natural Reserve, about a 7 hour drive south of Lanzhou. It was a breathtaking experience, as we started or hiking at about 10,000 ft altitude, and worked our way up to the peaks, where we shared brushy meadows with Yaks and three species of native Chinese pheasant. In spite of losing most of my lunch in a brush with altitude sickness I had a ball! Lynn and I even managed to be almost run over by a very frightened Roe deer. The excitement of these beautiful mountains was only slightly offset by the minor discomforts of sleeping on plywood beds with only 1 inch of foam matting and grain-filled pillows, and eating rice soup and steamed bread each breakfast in camp. Our guides from the university were really knowledgeable about the reserve and its wildlife species.

On our return trip to Lanzhou we took about a six hour detour to visit a Tibetan village, and the Labrang(sp) Buddhist monastery in the Tibetan Autonomous region. The food in the village was excellent and the monastery was fascinating. I especially liked the part where to achieve their highest state the monks had to totally defeat the three great evils of hatred, ignorance and greed. Their temples are rife with bright colors and great religious images, while still maintaining their solemnity.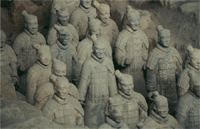 After completing our journey back to Lanzhou we spent the night, and caught a flight to Xi'an (pronounced Sheeon) the next morning. It was here that we would visit the city wall, the Shaanxi History museum, the Hua Qing Chi hot springs and truly one of the great wonders of the world, the Terracotta warriors. The care the Chinese government has taken in unearthing and restoring the warriors and the chariots and horses is truly amazing and the facilities built to display them are first class. Both Lynn and I were in awe!

After Xi'an Lynn and I left the remnants of our symposium group and proceeded to Hong Kong on a personal holiday. Hong Kong, now the Hong Kong Autonomous Region of China, lies squeezed between mountains and seacoast in a lovely setting. Even though its economy is currently faltering, along with most of the rest of Asia, it's a shining example of what China could someday become. So far, China has pretty much lived up to its "hands off" promise, and locals hope that they are setting an economic example that will ease the future transition.

The shopping in Hong Kong may not be as inexpensive as Beijing, but it appeared that the average quality of merchandise offered was better. We thoroughly enjoyed the shops, the ferries, trains, restaurants and the parks and Zoological and Botanical Gardens. We rested up in a luxurious hotel, complete with American-style breakfasts for the long flight home, and our return to work.

Click Here - For more pictures of this trip
---